Interactive Frontier Museums: Free Frank Cemetery Restoration Project
---
Free Frank Cemetery Restoration Project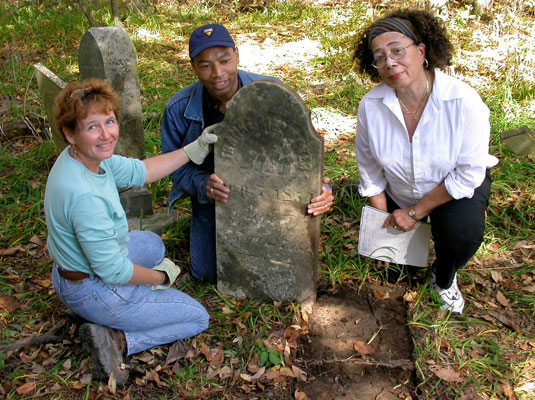 From Left to Right: Helen Wildermuth, Stonehugger Cemetery Restoration, Gravestone Preservation Free Frank Cemetery Restoration Project Directors: Jeffrey E. Walker, great great great grandson of Free Frank McWorter, and Dr. Juliet E. K. Walker, great great granddaughter of Free Frank McWorter. Photo taken by October, 2004 by Cemetery Electronic Reconnaissance and GPS Survey: Richard Green HRC, Historic Archeological Research.
Dr. Walker, with the moral support from her mother, single-handedly, through intensive lobbying and effort, had the gravesite of her great great grandfather declared a National Register of Historic Place in 1988. Free Frankís gravesite is one of three in Illinois listed in the National Register of Historic Places. The other two are President Abraham Lincoln and Illinois Senator Stephen Douglas. The Free Frank New Philadelphia Historic Preservation Foundation has launched plans to restore the Free Frank Family Cemetery and also to rebuild New Philadelphia, as a pioneer museum village, as it existed at its height as a frontier town in the 1850s.
On June 24, 2005, in the barren and neglected family cemetery, Dr. Walker announced that the Foundation has launched the Free Frank Cemetery Restoration Project. A team comprised of geologists, architects, botanist and archaeologists will restore the cemetery. Using global positioning, ultraviolet imaging and other technological processes will confirm the location of graves that are unmarked and/or not designated. The tombstones will be restored and replaced. The projectís target completion date is 2007.

From the Congressional Record: http://thomas.loc.gov/cgi-bin/query/z?r101:E03OC0-181:

A TRIBUTE TO FREE FRANK McWORTER -- HON. RICHARD J. DURBIN (Extension of Remarks - October 03, 1990)

HON. RICHARD J. DURBIN
in the House of Representatives
WEDNESDAY, OCTOBER 3, 1990

Mr. DURBIN. Mr. Speaker, on Saturday I will attend a ceremony honoring Free Frank McWorter whose pioneering spirit and entrepreneurship led to freedom from slavery for himself, his family, and many others he helped escape through the underground railroad.
His great-great-granddaughter, Prof. Juliet E.K. Walker, has worked long and hard to secure Free Frank's place in history. Her efforts have made many people more aware of an aspect of African-American history and business that is little known to most Americans. Her most recent undertaking involves an effort to put his gravesite, in Barry, IL, on the map. She set out on September 20, to trace Free Frank's 1831 journey from Somerset, KY, which he left in search of better opportunities, to Barry, IL, where he is buried.
Free Frank was a man with remarkable determination and courage. As a slave, he earned extra wages by hiring out his labors to other masters during the little spare time he had. Eventually, while still a slave, he established his own business, mining and selling saltpeter for the manufacture of gunpowder, which was in high demand during the War of 1812. He used the money he earned to buy his freedom and that of his wife, Lucy; two sons; two daughters; seven grandhildren; two great-grandchildren; and a daughter-in-law. The total cost of this struggle for freedom is estimated to have been $15,000.
After their liberation, Free Frank and his family set out for Illinois, where land was cheap. They bought 160 acres from the Federal Government for $100, in what is now known as Pike County. It is believed that at age 53, Free Frank was the first black man to legally establish a town, which he called New Philadelphia, in this country. Free Frank and his family played an important role in shuttling runaway slaves to Canada through the underground railroad station in their basement.
Ms. Walker's efforts to ensure her great-great-grandfather's place in history, including years of research leading to a book entitled `Free-Frank: A Black Pioneer on the Antebellum Frontier'; and a listing of his gravesite in the National Registry of Historic Places, have generated public interest in Free Frank. A well-deserved profile of Free Frank appeared in the Chicago Tribune on September 28.
It is my hope that the remarkable accomplishments of Free Frank McWorter will be read by many more people for years to come. He deserves to go down in history as the dedicated pioneer that he was.